The Hangover SPECIAL SmartSkin - SPECIAL as YOU!
HANGOVER is a brand born in 2015.
Today Hangover promotes SmartSkins dedicated to various devices including smartphones, Iphones and Iqos Devices, providing inimitable style and novelty.
The formats and designs are registered by certifying an exclusive accessory, useful to generate amazement and curiosity to each customer.
The combination of the two words HANG and OVER (Hang it Over) derives from the concept "Attack it above" which describes a product specifically designed to be easily applied to the device, be it an IQOS, an iPhone or any Smartphone.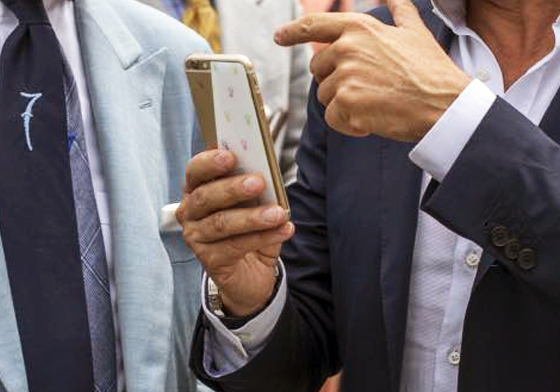 The "SMART" concept (present in the word SmartSkin) derives precisely from offering a simple product, easy to use and universal but, at the same time, exclusive and original; this approach also manifests itself in the dedication of the entire staff to creating and providing something truly unique in concept, materials and design.
The principles that have guided us in creating, promoting and affirming the brand are:
ECOLOGY: product designed for its REUSING against the disposable trend
DURABILITY: the protective resin, the universal shape for all devices and the possibility of cleaning it, guarantees a longer duration than any cover or stick on the market.
ZERO WASTE: package designed so that it does not end up in the garbage bin (the box must be kept to maintain the product over time).
COMMUNITY and EXCLUSIVITY: involvement of artists, designers and photographers, with the desire to use our product as a vehicle for communicating their graphic works and making them unique and exclusive for Hangover.
WORK COMPLIANCE: the real MADE IN ITALY (from the packaging to the product), guarantees quality and control of respect on the job knowing, in fact, the whole production chain and the production methods.
PERSONNEL ATTENTION: for the consumer in providing them with a high quality product at adequate prices and a complete service.
Hangover SmartSkins are also available on all Amazon European platforms that can be purchased with Amazon.
For any additional information do not hesitate to contact us. Hangover Smartskin support service is available to you every day - 24h.
Follow us on social media looking for @hangoversmartskin to get updates on news and details and to share your experience with Hangover SmartSkin!